PTFE Packing
Product categories of PTFE Packing, we are specialized manufacturers from China, Ptfe Packing, Ptfe Gland Packing suppliers/factory, wholesale high-quality products of White Ptfe Gland Packing R & D and manufacturing, we have the perfect after-sales service and technical support. Look forward to your cooperation!
Brand:

SANDA

Packaging:

Carton

Supply Ability:

5tons/10 days

PTFE Packing pure PTFE braided packing the packing is a pure PTFE fiber yarn packing braided into wquare cross section and impregnated with PTFE dispersion It has high cross sectional density and structural strength It has low friction result in easy shaft running Long lubricant squeezed out under operating pressure...

China PTFE Packing Suppliers
Description:It is braided with high purity PTFE (Teflon) filament. PTFE material has a low friction and excellent resistance to chemicals. PTFE Braided Packing is resilient, chemical resistant, self-lubricating, and withstand high linear speed and pressure with minimum wearing to the shaft. Ptfe Packing can be used in various pumps and valves. It is especially good for corrosive media, high speed application, or applications that require clean and minimum contamination material.
Packings made from PTFE are a mainstay of the mechanical compression packing industry. PTFE is well known for its outstanding resistance to chemical attack, low coefficient of friction and wide temperature tolerance including cryogenic service. This wide flexibility makes PTFE packings a popular choice for those difficult applications where strong solvents, corrosive chemicals and oxidising media require to be sealed. Style options: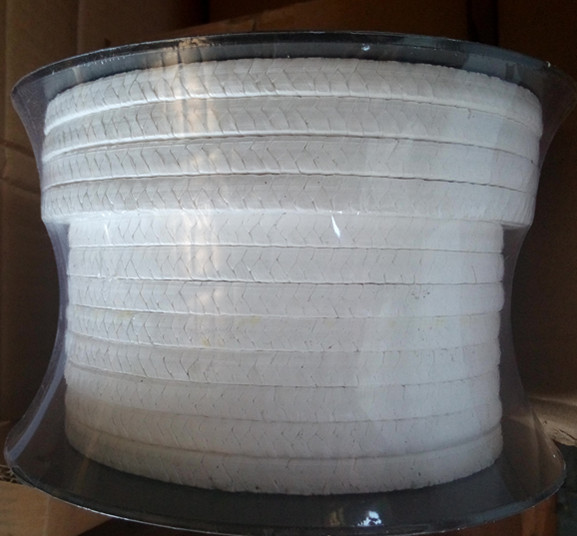 Technical Data
Material

100% Pure PTFE yarn

Temperature Range

-150 up to +260 oC

Process

Rotating

15 bar

Reciprocating

100 bar

Static

150 bar

Shaft Speed

2m/s

PH

0~14

Density

1.3g/cm3